RATES AND DELIVERY TIMES
The rates and delivery times depend on the destination, weight and volume of the package.
They are a function of Swiss Post for Switzerland and Liechtenstein.
For deliveries to addresses outside Switzerland and Liechtenstein, rates and delivery times are based on FedEx distribution areas. Shipments are made according to the Delivered Duties Paid (DDP) sales conditions. The system adjusts the various taxes and transport costs when the customer's billing address is entered. There are no administrative surprises.
1. GENERAL
Delivery times are given as an indication only.
ORFÈVE cannot be held responsible for delays in deliveries due in particular to cases of force majeure, transport problems, customs retentions or any other reason beyond its control.
In case of temporary unavailability of an item, we cannot guarantee the delivery time.
In the event of difficult weather conditions (heavy snowfall, floods, heatwave…), shipments and deliveries may be disrupted, without ORFÈVE being liable.
No orders are dispatched or delivered on Saturdays, Sundays, public holidays, the day before and the day after public holidays.
2. TABLE OF RATES AND DELIVERY TIMES
Delivery times :
Switzerland and Liechtenstein: the next working day after shipping. Shipping takes place within 3 to 5 working days after the order.
Other countries: in the morning, the next working day in most major urban centres. 2 or 3 days in other areas. Shipping takes place within 3 to 5 working days after the order.
Delivery rates :
Switzerland and Liechtenstein: free delivery
Other countries: please refer to the list below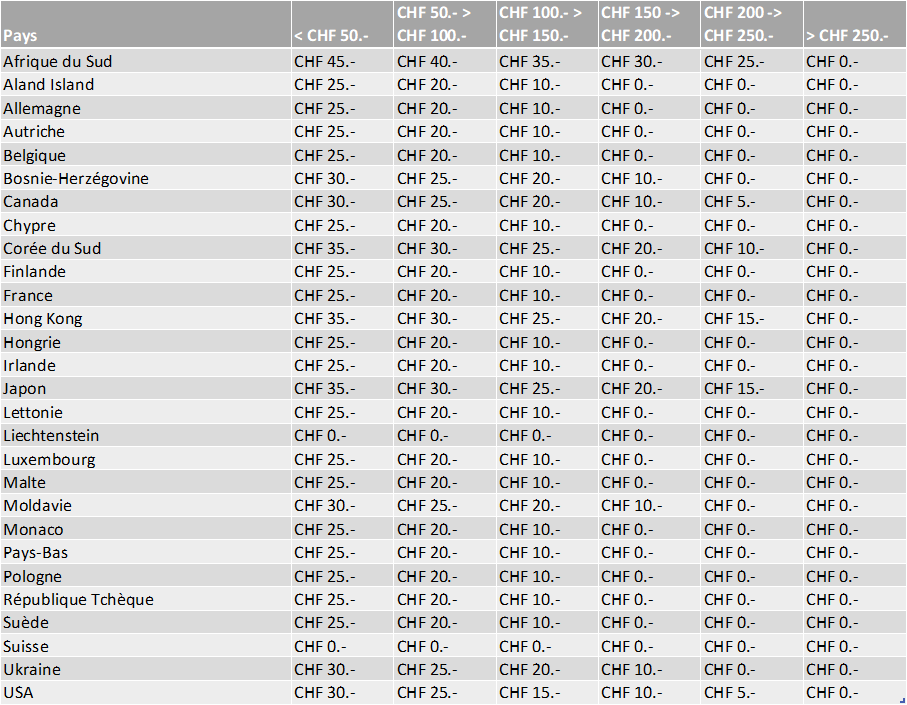 Last update : May 2022